There are places that you fall in love with immediately, like Buenos Aires with its elegant architecture and glamorous neighborhoods or the quintessential Southwestern town of Santa Fe, New Mexico. And then there are places that win you over slowly, that work their way under your skin, until eventually you're convinced that there's no better place in the world.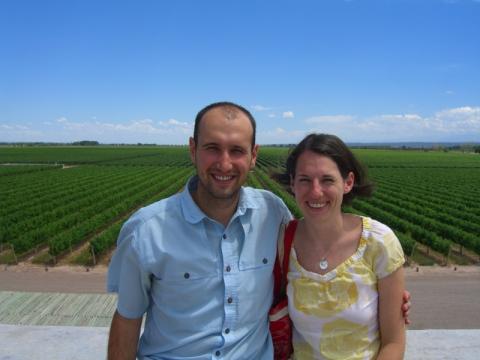 After our time here, Mendoza has officially succeeded. Mendoza is nearly Denver, if Denver were to add a booming wine industry and affordable gourmet meals (for tourists, anyway). So what do we do with ourselves in Mendoza? We live in a great apartment near the center and close to the city's big park. Greg spends his days working away on projects of his own and for clients. Nikki is teaching English and has been taking Spanish lessons to prepare for the diploma de español como lengua extranjera. On Wednesday nights, we head to The Vines of Mendoza for Winemaker's night, where the winemaker from a specific winery talks about their wines while we sip away and munch on cheese. Thursdays have become our weekend free day, and we've started a tradition of heading to visit three wineries.
The only things we are missing are our friends and family and, sadly, spicy food.